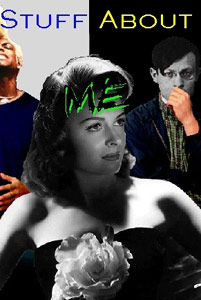 As you can see, I have this web page specifically so people who collect Rusty Farm Implements® can find out where I live and come visit me. I bet my sternum makes a handy whetstone.

Ahem. First, the basics.
Name: Courtney H. F. Mitchel
AIM Screen Name: DrSpatch
email: chfmitchel at hotmail dot com
Wasn't that exciting? I bet it was. Shut up.

Anyway, I hail from the 'Nati, deep in the heart of the midwest (the heart of it all, in fact). One day I will escape, and you will all have reason to fear me. Bwahahahaha... I mean, wheeeeeeeee. Yes.

I went to a private, all-girls Catholic high school, and yes, I liked it, and no, not everyone is a slut/lesbian/Britney Spears. In fact, the average girl was too busy doing homework to have sex/madly pining for boys/hadn't showered in a week.

Three things make life bearable: friends, art, and lots of other stuff. Art is what I like to call music, literature, and pretty pretty pictures. Lots of people like music, and most of those people like to compare the music they listen to, so here's a brief list of baaaands that I like and can think of off the top of my head:
actionslacks
alkaline trio
beat happening
björk
the cure
the dead milkmen
depeche mode
the faint
frente!
green day
harvey danger
jackson 5ive
jawbreaker
kings of convenience
kraftwerk
nirvana
pain
the promise ring
jill sobule
the smiths
super furry animals
they MIGHT be GIANTS
rufus wainwright
white town

And some of those weren't even bands!
There are other things that I would tell you, but I do not necessarily know you so well. So no more personal information for you.

Weirdo.